Relaxing. That's the one word I would use to describe my weekend. It was nice. I am trying to get everything done around my house that I want finished before
my surgery
on Thursday. I am still remarkable calm and laid back in light of the fact that I will be reporting to the hospital on Thursday morning. Maybe I will feel differently after my pre-op appointment with the doctor tomorrow I don't know, but I will keep you posted.
Okay, back to the more fun and interesting topic of my relaxing weekend. Saturday I had a wonderful girls day with my dear friend Rebecca. We went for manicures and pedicures and then did a little shopping and lunching. After that we returned to my house and put together the new tables I had purchased for the deck.
Oh look, there's Sammy. Weird. She is never in any of my pictures. I found these tables at Lowe's and I think they look great with the chairs I already have out on the deck.
Look at our handy work. We are awesome. The husband was very impressed with us. Rebecca, the husband, our friend Sean and my mom enjoyed the evening with the furniture, the fire pit and grilled burgers.
Obviously I have some spring planting on my to do list, but I will get there. The container on this table will be much cuter once it is full.
It was a wonderful Saturday.
My Sunday was very similar, I got a massage then did a little shopping and tied up some more loose ends around my house.
How was your weekend?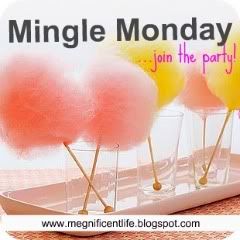 Have a great week!