I have mentioned before that I wish I had taken better before pictures. I wasn't very organized as we were tearing the house apart, but that doesn't make my after pictures less awesome. I love our living room!
I could sit in here all day. It took me two tries to get the yellow walls that I wanted, but I am so happy with the result. This yellow is sundance by Sherwin Williams. Perfect.
I love the wood trim and wood floors; and this rug that was my mom's couldn't be more perfect.
On my living room to-do list is window treatments...I want to keep the blinds, but I think a nice valance or something would make the windows pop more. What do you think?
I love these animal prints. They were actually old postcards of the husband's. My sister had them framed for him.
Cozy.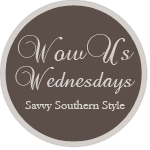 I hope you have a fantastic Wednesday!