The hallway was one of the first rooms in the house I finished. It is a small room and just needed some paint and some decorating. I really went for it on the color in this room, this blue was completely out of my comfort zone, but I love it.
I also went outside my comfort zone on the runner in there and I am so glad I did.
My hallway is the wild child in my house and I love it.
When I hung the husband's navy recruiting poster (which I had always planned on putting at the end of the hall) it looked liked I picked the wall color just for it.
The linen closet and hamper are in the hallway as well and I love the pulls I chose for them.
They are similar to the door knobs in our home.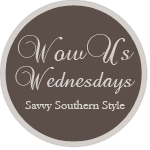 I hope you have a fantastic Wednesday!