This week I found 3 cans of rust-oleum spray paint in my garage. I bought them back when we were remodeling the kitchen and had visions of what I could do with the old patio furniture I had inherited.
Last weekend those visions finally came to fruition. I had these three chairs that went with a long gone table left from the clean out of my mother's garage.
I like these chairs okay...the flower detail is fun, but I have never been a fan of the color. Enter rust-oleum.
Huge difference!
I used two cans and refinished 3 chairs and one table.
It was so easy! I threw a drop cloth down in my backyard and got to spraying. These are just a single coat and it dried pretty quickly.
I put the furniture back in place the same evening. Simple as can be. I was on the verge of wanting to replace this table and now I am a-okay with it.
I was honestly a little intimidated by spray paint...I felt like I couldn't control it, but it was so easy and not very messy at all (I still wore my painting clothes, of course). If you were holding back on trying the spray paint thing...don't! It's super easy!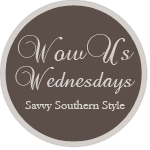 Have a fabulous Wednesday!!