I am happy to say the dining room is complete...okay there are still some small things I want to do in here decorating wise, but the big things are finished. There was not a lot of work to be done in here, but the updated paint color and new window treatments really make a huge difference.
I realize now that I didn't take very good before pictures of most of our rooms. Oops. If I could go back and do it again...wait I don't want to go back. I will just do it better next time. Lesson learned.
This wonderful furniture and rug have been in my family for years. My mother's mother made the original purchase. And I added a couple of pieces that were not here before.
All in all I love the way the wood (floors, furniture, trim) work with this updated cranberry color. I relocated this gold circular mirror from the living room. I love it in the dining room.
This antique secretary makes a great cabinet for crystal. Currently it is holding three generations worth...mine, some of my mother's and some of both of my grandmothers'.
I am very sentimental about all of the pieces in this room. I absolutely love having dinner parties in here.
I found my candle centerpieces and the drapes at Pier 1. The drapery rods and tie backs I picked up at Bed, Bath and Beyond; and the paint is Sherwin Williams. I would still like some tall thin lamps for the side board to complete the room.
I think this transformation is kind of wow, so I am linking up over at Savvy Southern Style for Wow Us Wednesdays.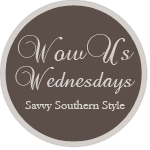 There was only one photo bomb committed during the picture taking for this post. :)
Hi Bird!
Have a lovely Wednesday!!