Spring has sprung in my backyard.
I love this new planter! You might remember it from last week's
Weekly Finds
post. In the top basket I planted a mixture of red salvia, dianthus, and marigolds; and in the bottom pot I have a mixture of riviera blue eyes (which are still going strong since the last planting) and purple petunias. My backyard gets plenty of sun and these are all sun loving plants. I have never grown the salvias or dianthus before so I am anxious to see how they do.
I revamped this hanging basket with a new insert and flowers (marigolds and petunias) and I planted some veggies this year!
This pot has tomatoes, bell peppers and pink petunias. I hope I get some yumminess from here.
The only other news I have to report from the weekend is that the husband started on our spice rack. I can't wait until it is fully completed so I can do a before and after post on it. Our house was built in the 1930's and our kitchen has an old ironing cabinet in it.
I thought this space would re-purpose nicely into a spice cabinet. After some of the husband's work this weekend I know I was right!
I can't wait to share the finished product with you!
Thanks husband for being so handy. <3 br="">3>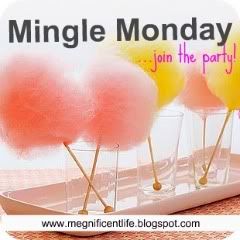 Have a great week!