This weekend felt sort of close to normal. It started off with crawfish and beer with the husband on Friday afternoon.
Yummy. I'm glad I am not longer on pain meds and can enjoy a beer. See, there is always a reason to be thankful. I am also thankful that crawfish can be enjoyed on Fridays during lent.
Speaking of lenten Fridays, I have a new recipe for you. It combines
eggs and pasta sauce
again. If you haven't tried it and you enjoy eggs (or just the whites like me) I suggest you give it a try. This recipe was very easy. My mom gave me the idea for this recipe from a similar one she found in Family Circle Magazine. Here is my version:
Italian Egg Bake
1 onion, chopped
4 garlic cloves, minced
1 Tbsp extra virgin olive oil
28 ounces crushed tomatoes
1/4 tsp oregano
1/4 tsp thyme
8 leaves fresh basil (2 of them sliced for garnish)
4 ounces sliced fresh mozzarella cheese
6 eggs
Preheat your oven to 400 degrees. Add olive oil and chopped onion to an oven safe pan or skillet and saute until translucent, add garlic and saute another minute or two. Add all remaining ingredients, except two leaves of basil, the eggs, and cheese and bring to a low simmer. Simmer the sauce for at least 15 minutes; the longer you simmer, the better it tastes.
Remove your sauce from heat and crack in 6 eggs around the pan on top of your sauce. Scatter your sliced cheese around the eggs and bake until the egg whites set, around 15 minutes. Add the sliced basil garnish and serve immediately. We had ours with crusty bread, but you could just as easily serve this over pasta.
It was a pretty good meatless meal.
The rest of the weekend consisted of mani/pedis with Rebecca and girls lunch on Saturday...then lots of relaxing and puzzle working.
My dear friend Kelly brought over a puzzle last Thursday when she came to visit and I finished what we had left of it over the weekend. I do enjoy working puzzles.
There was also things to do in Italy planning....
And laundry. Sam enjoys laundry.
It was a very exciting weekend. I hope yours was fantastic.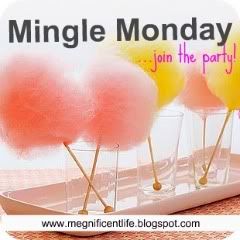 Have a great week!