Over the
weekend
the husband and I started the gigantic task of cleaning out the garage. As it turns out I found lots of treasures hidden in said garage. There were two boxes tucked in the back that were from one of my grandparents' moves. It was packed away in the 80's and forgotten about. It sure was fun to discover it.
I found vintage bar tools,
a crystal shot glass,
a very fancy toothpick holder,
a china coffee cup and saucer,
and a china coffee service set.
The effort to uncover them from years of grime and dirt was completely worth it. Work gloves are my friends.
I have been looking for some fun pieces to finish the shelf over the bar cabinet in our dining room so a lot of my discoveries already found their place in my home.
I think it is a pretty good improvement. I really like the pops of color on the shelves.
Yesterday was my mother's birthday and my sister sent her these sunflowers.
I couldn't resist snapping a picture...they are so happy.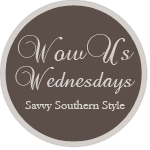 Have a fabulous day!!