My weekend can be summed up in one sentence, "Oh, my goodness; look at all this junk."
We cleaned out the garage at our house this weekend. For those of you that are new to the blog...a little background....the husband and I moved in to the home that I grew up in last year and with it came a garage and attic already full of years of history, treasures, and well junk.
We will still be working on this project next weekend, but this weekend we successfully got the treasures separated from the junk, from the items for donation, and from the items for sale. I tried most of the weekend to take deep breaths and concentrate on the treasures.
We found my mom's now vintage Schwinn bicycle that I can remember riding on the back of in a toddler seat. This bike will be off to Hattiesburg to hang in my sister and brother-in-law's restaurant/bar. We also came across my great grandfather's high chair and my grandfather's lawn mower. Pretty neat. We haven't decided what to do with the high chair and lawn mower yet, but still cool finds.
The husband focused on the fact that he got to make a trip to his happy place.
We made a purchase of shelves and storage bins for the garage at Home Depot. The husband is also happy that he can now walk in the garage and knows where all of his tools are.
Amongst the treasures, I came across two boxes full of goodies that my grandparents packed up when they moved back in 1986 that had never been opened. Those will be the stars of tomorrow's Weekly Finds...some of those treasures have already taken their place in my home.
And...happy birthday to my awesome mom today.
We love you lots!
I hope your weekend was more relaxing, but just as productive as mine.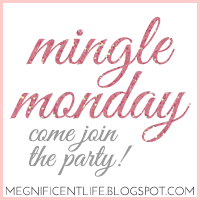 Enjoy your Monday and your week!